I have religiously watched every episode of Doctor Who since its relaunch in 2005 and have tried to watch every episode of every spin-off that added to ongoing construction of the Whoniverse – which includes Torchwood, The Sarah Jane Adventures and Class. I will admit to not bothering with Torchwood: Miracle Day, but from what I've subsequently read, I probably didn't miss much. And I have seen the majority of the "Classic" Who episodes.
So, I think that I can be considered somewhat of an expert on all things 'Who'.
I have now watched the entirety of Season 11 (or "Chibi-Who", as I like to call it), and can give my considered opinion of the series as a whole.
Now, usually, I try to refrain from using expletives, but…what the actual fuck was THAT?!
That was NOT Doctor Who. Yes, it may have been billed as Doctor Who, may be considered "canon" and may have the same underlying background as the previous season, but it's just…Not…RIGHT.
Now, I can understand that the new show-runner, Chris Chibnall, wants to put his own stamp on it, that he wants to create his own Who mythology and has been quoted a s saying that the BBC were looking for "risk and boldness" on recruiting him to be in charge of Who. But where exactly was this "risk and boldness"?
Cast a woman as the Doctor? Oooh, been done before, way back in 1999 – by Stephen Moffat, no less, in the Comic Relief Doctor Who spoof "The Curse of Fatal Death". Yes, it may have been a parody, but not only did we have Rowan Atkinson as the Doctor, we also had Richard E. Grant (pre-dating his role as the Doctor in the animated Scream of the Shalka – which is not considered canon), Jim Broadbent, Hugh Grant and…Joanna Lumley. Female Doctor, see?
Give the Doctor a more ethnic group of companions? Hmm, may not have been the Doctor, but Sarah Jane in The Sarah Jane Adventures (canon Whoniverse) had both black AND Asian sidekicks at one point – and Clyde Langer also had an absent father, although his came back and got possessed by a Beserker pendant, which drove him a little bit bonkers…which was kind of cool.
Chibnall is quoted as stating that "If you've seen Doctor Who before I hope we're going to be giving you all the stuff you love." Hmm, more like "If you've seen any science fiction stuff before, including Doctor Who, you'll spot where we've stolen the ideas from". The Stenza race that appear in the first and last episode are basically Predators, instead of a visually unique design, they are the Blue Man Group with teeth stuck to their faces. The Pting from "The Tsuranga Conundrum" seem to be a hybrid between the Slitheen from "Aliens of London" and the Krites from the movie Kritters – but with the ridiculous premise that it cannot be harmed by anything. The TeamMates from the episode "Kerblam!" look familiar?
I can't think where the designers came up with that look…*cough, Total Recall, cough*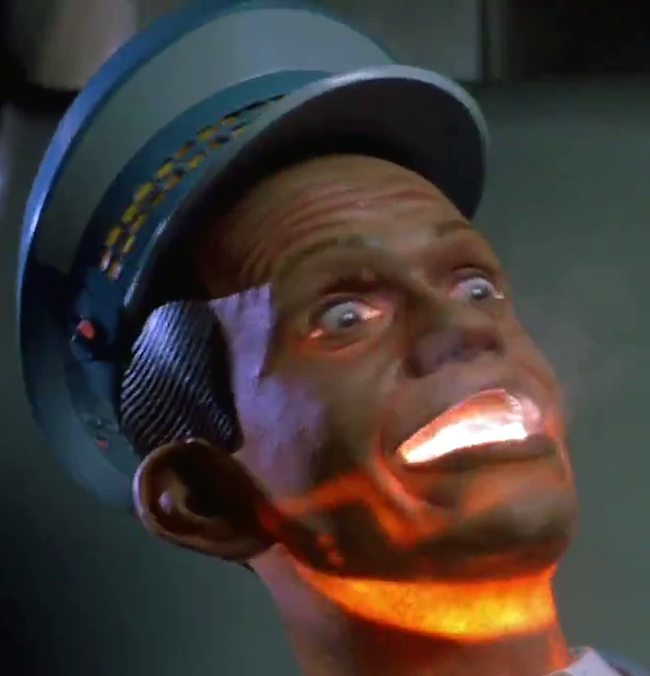 So, rather than being 'risky' and 'bold', Season 11 seems to retreading ground that has been gone over before, but not improving on its inspiration. It's like the difference between the original 1984 Ghostbusters and the 2018 reboot – both have the same original source, both are effectively the same film, but rather than build on and improve on the original, it's just…doesn't.
And whilst the analogy above has in common that the principal roles were played by women rather than men, this has absolutely no bearing on my opinion. I have no issue with the Doctor being portrayed by a female actor.
My issue is with the overall tone and direction of the show under Chris Chibnall. He states that he's a huge fan of Doctor Who, but he seems to have imposed his own vision of what he believes the show to be – and it bears only a passing resemblance to what THIS long-term fan has enjoyed in the past, going right back to 1963.
However, if the rumours are correct, the era of Chibi-Who will not last long and we can pretend it was all just a bad dream…including that fucking talking frog.
Until next time.
Jez